Howdy all. I only just joined the community a few days ago, so I thought I'd say hi and post a few photos while I was at it. Cause, really, what better way to procrastinate when you should be writing an essay?

I love love love baking. I never really had anyone to show me how, though. I've been teaching myself a lot of different cooking techniques over the last year (not just in baking) and am having lots of fun learning what works, and more importantly, what doesn't. But over the last few months I've decided to dabble in some cake decorating. Always wanted to try it. Always said to myself, "How hard could it be?"

There's only one way to describe my attempts: epic fail.

This is probably largely attributed to the fact that the only food colouring I've been able to find is liquid, and we all know what that does to fondant. I finally found a store that stocks other kinds and now have some gel colouring, so I'm hoping my decorating adventure today will fare better. Up until then, though, I've had to improvise.

Well, there just happens to be a lot of photos of my fails, as my boyfriend loves taking photos of me baking almost as much as he loves eating the result. He's a big fan of progress shots so spends the whole time running around the kitchen taking photos, mostly getting in the way and copping the brunt of my frustration at the fact my stuff isn't turning out like the perfect image in my head.

I thought I'd share a few of them. Y'know, so you can laugh at how amateur I am and feel much better about your own superior talents haha.

I look forward to getting to know you all, learning from and being inspired by you, and hopefully one day being able to return the favour.

Here goes!

Preview: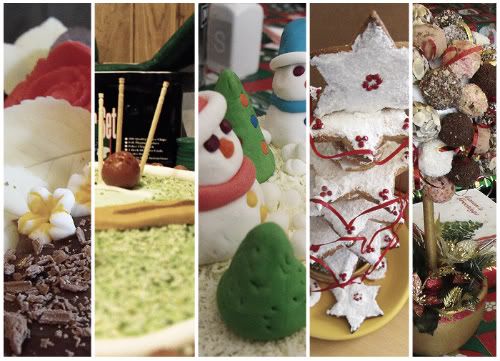 Choc/Peppermint Ripple Cake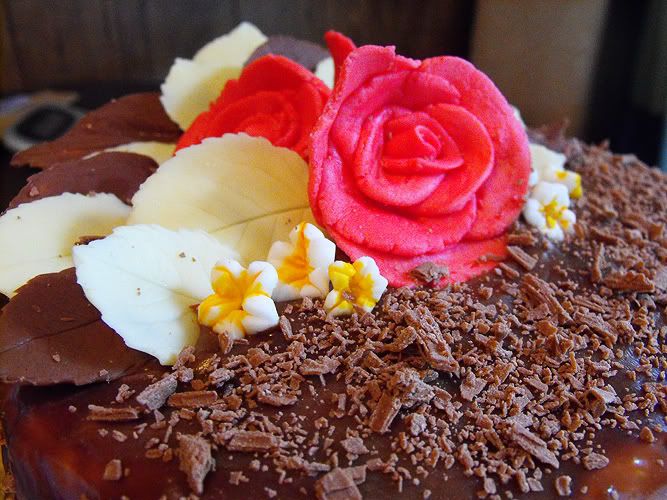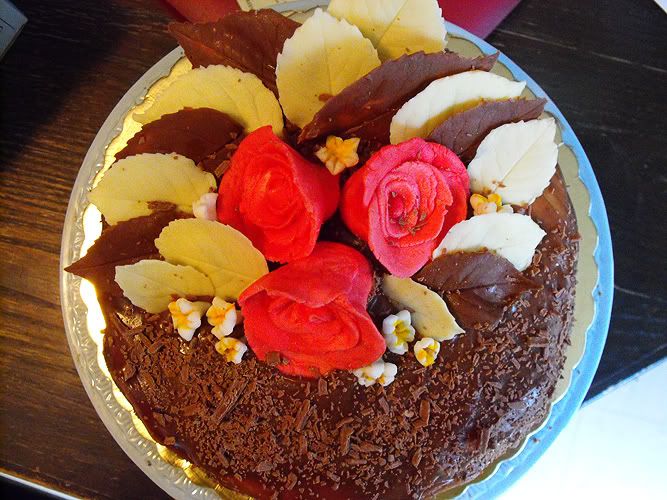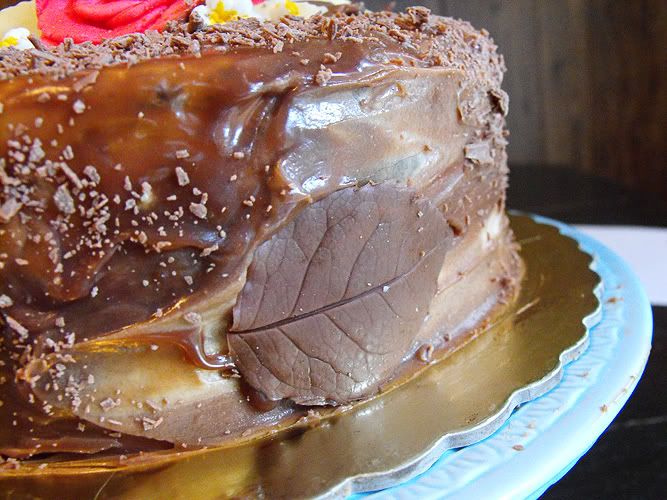 My boyfriend is a huge fan of choc ripple cake, so I started making them. My sister fell in love and decided she wanted one for her 18th. I thought I'd try a variation on the log version and go for a round cake. I also wanted to attempt chocolate icing. I wasn't sure how this would go as the icing is spread hot and doing that over a cake composed of cream sounded like a disaster waiting to happen. But it worked! The cake tasted divine. The decorations on the other hand look like shit! It was my first time with fondant, and it just didn't happen. My sister loved them, as did my mum and her friends - but I'm a perfectionist.

Chocolate Cricket Cake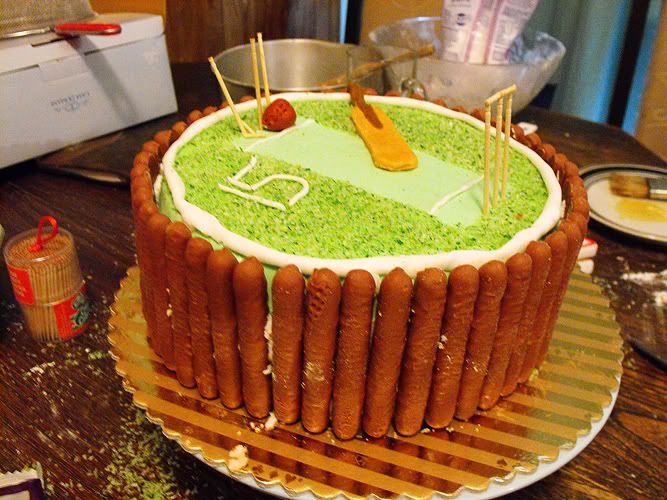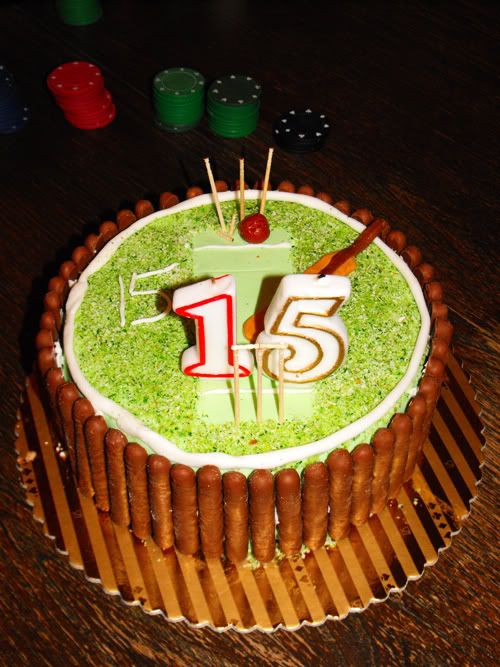 My cousin is a massive cricket fan and thus mum asked me to make him a cricket cake for his 15th. My first attempt at covering a whole cake with fondant. Fail. The decorations atop the cake are all fondant, save for the "grass", which is desiccated coconut. The fence is chocolate coated biscuits. I personally thought this cake tasted too dry, but everyone else loved it.

Christmas Choc/Peppermint Ripple Cake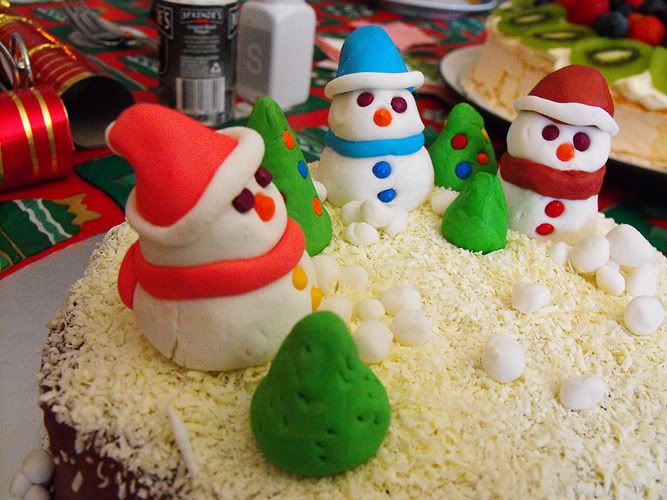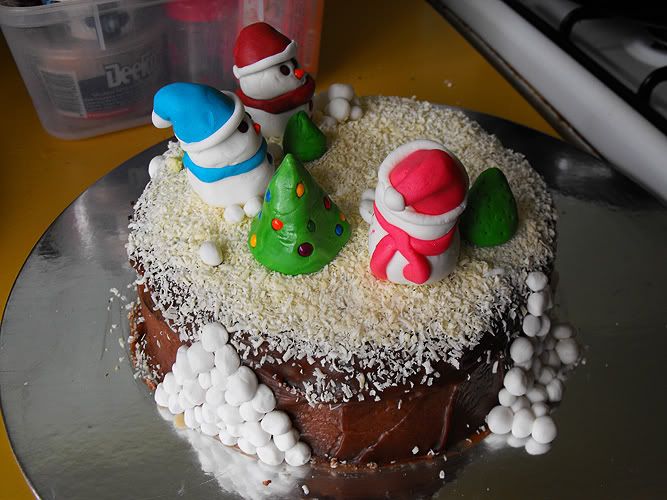 Another slightly smaller ripple cake, this time for our Christmas party. The decorations quickly went from what I had planned, to what worked at the time. The liquid food colouring wreaked havoc on my fondant, so that's basically just what I could make happen. The "snow" atop the cake is grated white chocolate.

Cookie Tree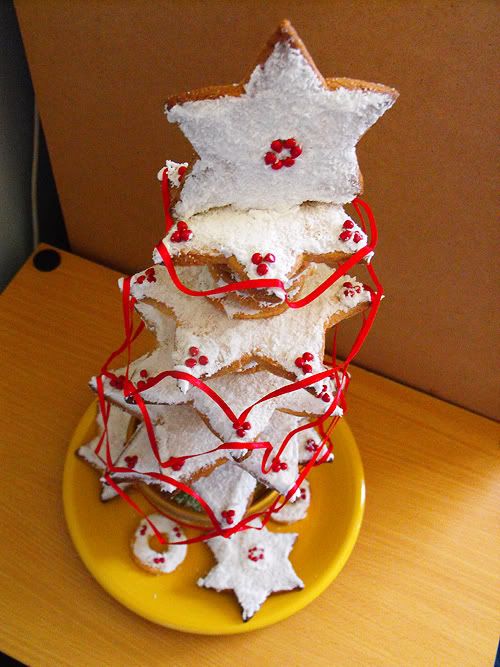 Plain cookies + royal icing + coconut + red choc chips + ribbon + terracotta pot = tree. It was supposed to have leaves to go along with the berries, but without the right cutter and with my limp fondant, again with the failage. Foliage failage. HA. I amuse myself (Sleep deprived = easily amused).

Truffle Tree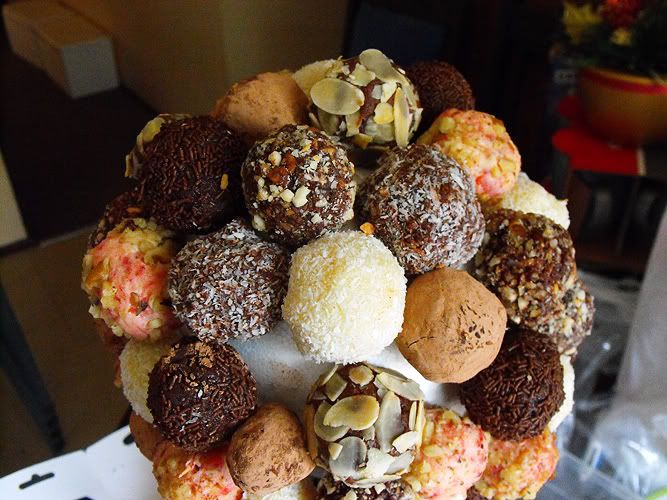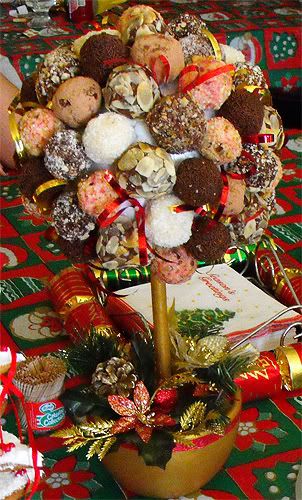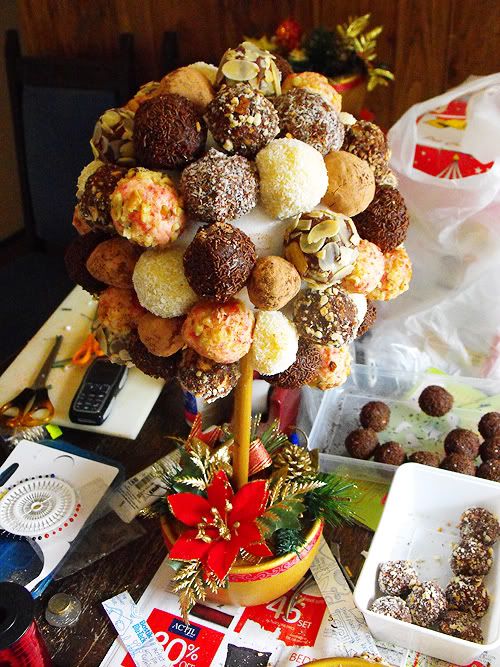 Pretty self explanatory, really! I made 2 and they took about a week each and it was hell. Needless to say, I learnt me some lessons. From memory, I think I made 7 (or so?) different recipes, all in all about 200+ truffles.

Most, but not all, of the Christmas desserts (the rest were on the 2nd table):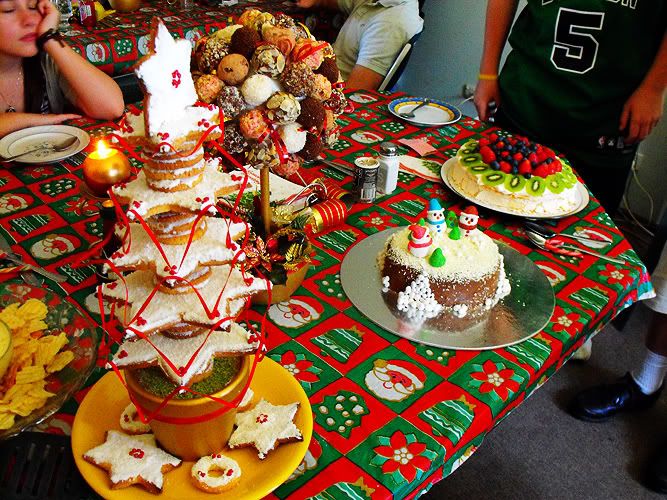 Originally posted here @
bakebakebake.