The reason for my prolonged absence from the kitchen, as previously mentioned, is my new job. After 3 weeks of non stop work to get the new store up and running, the end of set up approached and we got a day off before the grand opening. I seized the opportunity to bake a celebratory cake for the occasion:




This was a cake for firsts for me.

First layer cake.
First neapolitan cake.
First time making marshmallow fondant.
First time piping words.
First time not refrigerating a cake (I know I know, but I have some weird compulsion to refrigerate them, so I was wrought with panic over not doing so. You don't need to tell me how irrational I am)

I could go on. But the main point is, I was a bit of a nervous wreck brining it in. Presentation wise, to be honest, I didn't like it. I'm not even sure why. But it wasn't like the picture of perfection I had in my head.

You be the judge.



If you don't live in either Australia, New Zealand, Singapore or Hong Kong, your country won't be home to a Spotlight store, so you probably have no idea what it is. It started off as a fabric store at Vic Market, but has since grown into a fabric/craft/haberdashery/homemaker/party/etc retailer. So I wanted something bright and colourful. Hence the choice to do a neapolitan cake.

So we started off with 3 layers:




Assembled them with whipped cream:





Then crumb coated:





Next came the chocolate buttercream (usually, this recipe calls for a chocolate icing which is a tablespoon of icing sugar away from being a chocolate ganache, but under fondant I went for the buttercream).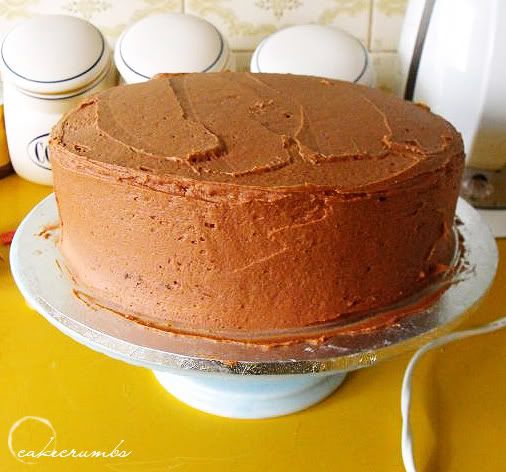 Then for the fondant decorations. I had never make marshmallow fondant before, let alone used it, so I was nervous about using it for a cake I'd be showing off on Grand Opening day. Would it stiffen enough? Would it be pliable enough? How good would it be for moulding? Would it taste as good as everyone said it did?

Turns out it was amazing to use for covering the cake. It didn't crack and withstood rough treatment, and tasted so much better than the usual stuff (though not as yummy as marshmallows themselves). It provided a perfect finish and was a cinch to use.




The idea was supposed to be that of embroidery cloth. The words were to looks "backstitched into the canvas. I only wanted the embroidery pattern to be on the top portion of the fondant, not down the sides of the cake. So I used the embosser once the fondant was actually on the cake. Mistake number 1. It failed. I smoothed out the top again and moved on.

Next came the embroidery hoop.




Then I started modelling things the store supplies. I got teased for being biased towards Craft/Spartys (my department), but it was more aesthetics than anything. I mean, to do Manchester or Furnishings or Custom Made would have required me to basically make bits of fabric out of fondant and I a) didn't have room to lay them after doing the piping, and b) .... meh.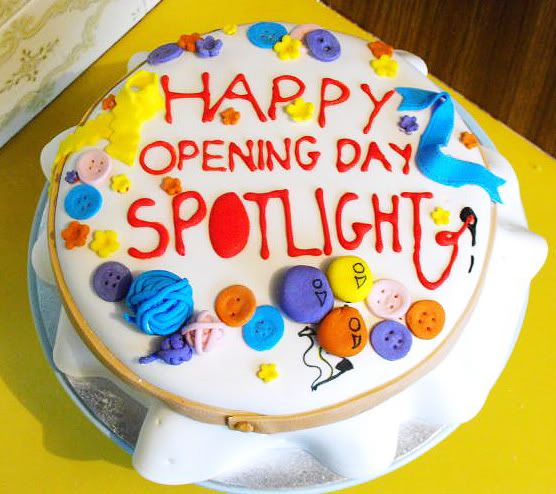 So I stuck with yarn, ribbons, balloons, buttons (there's some habby) and blossoms. I ran out of motivation (and time... and space) after that.





As far as modelling ability goes, not a huge fan of marshmallow fondant. It just didn't work as well as the other stuff. Perhaps that was just my ratio of icing sugar, or perhaps that's just a general rule with marshmallow fondant. No idea, but I will be using my regular fondant to do figures in future.




And once it was finally done... it just irked me. I don't know why, but the look wasn't right. Perhaps it's all the white, I've never covered a cake in plain white fondant before. I dunno. I was told to shut up and stop being picky; the cake was a hit. But I still just can't like it for some reason I can't put my finger on.

Then I was terrified of how it would looks once cut. I couldn't check it first, nor could I taste it beforehand and I hate serving food I haven't taste tested. Turns out the layers looked much better than I imagined (in my head it was a mooshy catastrophe). My boyfriend wanted a piece, so I snuck him one home and snapped it as well:




I would have liked a picture of the whole cake cut, rather than of this dilapidated-looking slice after the journey home, but I felt weird going "oh, could you stop eating it while I take a picture of my cake's innards" in front of everyone, so that'll suffice!

Thankfully, it tasted great.

Want to taste it for yourself?

Here's the recipe!




Neapolitan Cake

Ingredients

4 eggs

1 ½ cups caster sugar

2 cups self-raising flour

50g unsalted butter

1 cup milk

1 tsp vanilla extract

½ tsp rose pink food colouring

1 tsp strawberry essence

Extra ¼ cup of milk, warmed

2 tbsp cocoa powder

300ml carton thickened cream

Method

1. Grease three 22cm round cake pans. Line with baking paper.

2. Beat eggs until frothy. Gradually add caster sugar, half a cup at a time, beathing well after each addition. Beat for a further 5 minutes, or until thick and creamy.

3. Fold in sifted self-raising flour until just combined.

4. Place butter, milk and vanilla extract in a small saucepan. Stir over low heat until butter melts. Gently fold in two batches into egg mixture until combined.

5. Spoon one third of cake mixture into one of the pans for the vanilla layer.

6. Divide remaining batter into two bowls.

7. Add pink colouring and strawberry essence to one portion and stir to tint pink. Pour into second prepared pan.

8. Blend cocoa and extra warm milk to form a paste. Stir into remaining portion to make chocolate layer. Pour into remaining prepared pan.

9. Cook cakes, on two shelves, in a moderate oven (180°C) for about 25 minutes, swapping pans half way during cooking (I preferred to cook the cakes individuals).

10. Stand cakes in pans for 10 minutes. Turn onto wire rack to cool.

11. Level your cakes, then assemble with whipped cream.

12. Let your creativity go wild and decorate as you wish! This recipe goes on to detail the chocolate icing, and is then decorated with 100s and 1000s. But you can do better than that. ;)



x-posted here @
bakebakebake